Situated just 15 minutes from Bahrain International Airport and only 5 minutes from Central Manama
The original five-star hotel of Bahrain, Gulf Hotel Bahrain Convention & Spa, offers resort facilities with a modern city location. When it opened in October 1969, the waters of the Arabian Gulf were literally just a stones throw away and over the ensuing years, the Hotel has undergone extensive change, modernization and refurbishment and yet throughout has remained the Island's most consistent, successful and popular hotel.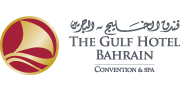 How to be a part of DTAC ?
---